Do you do unique/theme weddings?

I'm up for anything fun and adventurous! Lets discuss your dreams and we will make it
happen!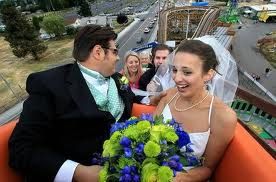 Can I add something to the ceremony?

YES! It's your wedding and you are free to add anything you want to the ceremony. We will work as a team until it is exactly how YOU want it.


How do I get the marriage license?

Both of you need to go to any county court and show proper ID (driver's license, military ID, etc.) pay $72. You can get the license as far as one year in advance. You will likely recieve your license when you are there. There are 11 different locations in the Valley!
Click here: http://www.clerkofcourt.maricopa.gov/marlic_loc.asp

How far will you travel?

I'm open to traveling anywhere but most of my weddings are in the east valley of the greater Phoenix area. Travel fees may apply.


Do you require counseling sessions?

They are optional and the focus of the sessions is on developing a greater understanding of your partner and improving communication. Common marital issues are discussed and explored.


Are you licensed to do weddings?

Yes! I am an ordained Minister with the Church of the Nazarene and currently a member of Mcdowell Mountain Community Church.